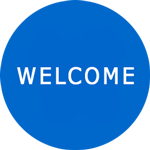 Bienvenue chez « Beautiful and Usable ».
Vous trouverez ici des informations sur mon entreprise, et sur moi, Vincent Fourdrinier, designer industriel sénior.
Je propose du « design industriel de l'innovation disruptive ».
Vous trouverez sur la page « vidéo » quelques exemples de réalisations.
Une revue détaillée d'une montre que j'ai dessiné à 728 000 $? Elle y est…
Maintenant, vous pourrez dire que vous savez que cela existe 🙂
Designer Industriel depuis plus de 15 ans.
De l'industrie automobile, en passant par le médical, l'aéronautique, la PLV, l'architecture, le mobilier, les garde-temps d'exception, et bien d'autres encore…
L'innovation est mon cœur de métier, celle qui donne de la valeur ajoutée à un produit!
Et, non, le design industriel, ce n'est pas cher, ce n'est pas de l'art et le résultat n'est pas abstrait. Comme tout travail, ce n'est pas gratuit, mais cela vous fera gagner de l'argent.
Je suis également membre de différentes entreprises, comme Keyrious (à San Fransisco) et de différents Clusters.
Welcome to « Beautiful and Usable » .
You can found many information about my company, and i, vincent Fourdrinier, senior industrial designer.
I provide « Industrial and disruptive design ».
You can discover some examples on the « video » section.
A detailed review of a 728 000 $ watch that i have design? Here it is…
Now, you can say that you see one 🙂
Industrial designer for over 15 years.
From automotive industry, to medical, P.O.S, aeronautics, architecture, furniture to exceptional timepieces, and so more…
Innovation is my core business, this gives added value to a product! And for sure, industrial design, is not: expensive, art, or abstract, but, as another work, it's not free, but it will earn you money.
I'm actually a member of different company, such as Keyrious (San Fransisco), and a few clusters.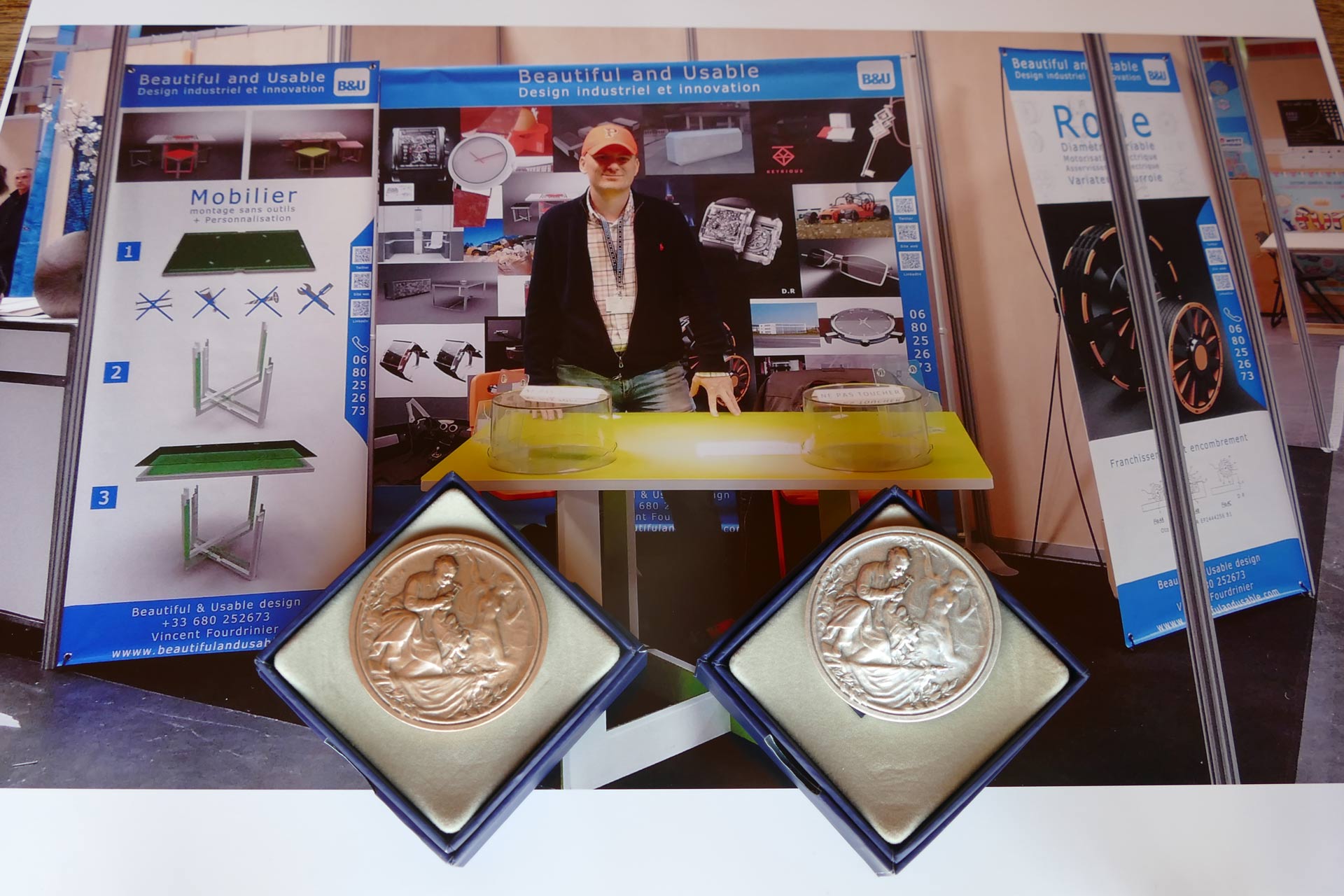 Je suis fier de partager avec vous les résultats du « Concours Lépine », Ce n'est pas 1 ou 2, mais 3 médailles gagnées!! (une autre pour un de mes clients) .
1- Une roue qui peut doubler son diamètre de façon variable (pour gravir des escaliers, améliorer le franchissement, etc), elle peut également être utilisée comme variateur de vitesse
2- Du mobilier ( une table et une chaise) que l'on peut monter/démonter sans vis, sans outils, et sans colle. Vous pouvez le stocker à plat et le personnaliser facilement.
C'est de l'innovation!
I'm proud to share with you the result of the « Concours Lépine », It's not 1 or 2, but 3 medals! (another one for a client ).
1- A wheel which can grow twice its diameter (to climb stairs to improve crossing, etc) , it can be use as a speed variator too
2- And a furniture ( a table and a chair) you can assemble/diassemble without screw, tools, or glue. You can store it in a flat package and personalize it easily.
This is Innovation!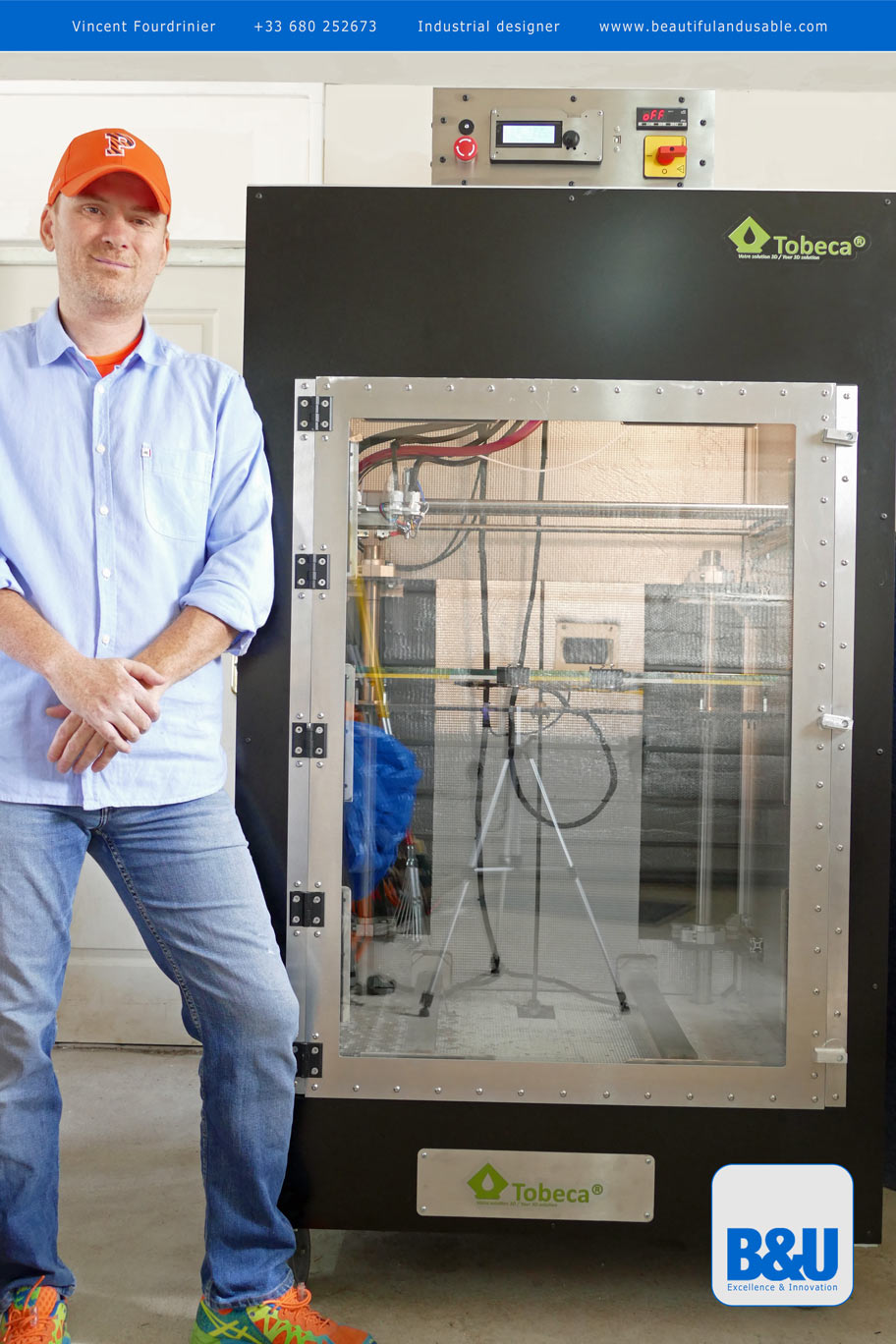 Actualités B&U design industriel:
Je viens de faire développer une imprimante 3D bi-matière en 60x60x60 pour vos futurs développements/prototypes!
Je suis également équipé d'un scanner 3D, d'un casque de réalité virtuelle et d'une station de travail et de calcul dédié aux présentations des projets en 3D temps réel.
Beautiful & Usable est maintenant agréé au titre du CII et du CIR; Les prestations de design industriel, d'innovation et de recherche sont maintenant éligibles à ces différents dispositifs!
News from B&U, industrial design
I've developed a new 3D printer with a huge print area, 60x60x60 cm, for your next product/development!
I've bought a 3d scanner, a VR headset and a workstation for real-time 3D review.
And now, Beautiful & Usable is also certified (for the French clients, sorry for the other one) for the CII and CIR, the research and innovation project are now eligible to this tax arrangements.